How to Start a Profitable Blog in 2017 – Step-by-Step Beginner's Guide
Today, you will learn step by step how to easily start a profitable blog from scratch. The coolest part? You can start one for just a few dollars a month (less than 1 Starbucks latte even)!
Click here to start a blog on WordPress
, then use the tutorial below for the easy directions.
Truth be told, blogging changed our lives… You know how frustrating it feels when your precious time is indentured to a job you don't like and you feel like all your hours are taken from you because you weren't born a millionaire???
We feel you. Less than a year and a half ago we were right there with you.
Before blogging, we didn't like our jobs, never got to see each other, couldn't travel, and felt like there was always more month than money.
We felt trapped, totally unsatisfied, and confused on why the "America dream" had fallen so short for us.
We did everything we were supposed to (go to college, get good grades, etc), but at the ends our our days we felt exhausted and completely unfulfilled.
Fast forward to today…
We LOVE what we do and how we get to help people through what we're passionate about (health and wellness).
Spend more time with our families and loved ones
Have gotten to travel all over the world (Bali, Nicaragua, etc)
Get to wake up when we want, design our days, and live life completely on our terms
I'll be honest, some days it still feels like we're living in a dream.
This is exactly what blogging can do for you.
Free up your time…
Here is a photo the rice fields from our month-long stay in Bali in Indonesia last October…
.
Make an impact…
This message is from a woman named Cynthia who is in our 21-Day Fat Loss Challenge program. We broke down and balled our eyes out when we first got this message. It melted us to our core.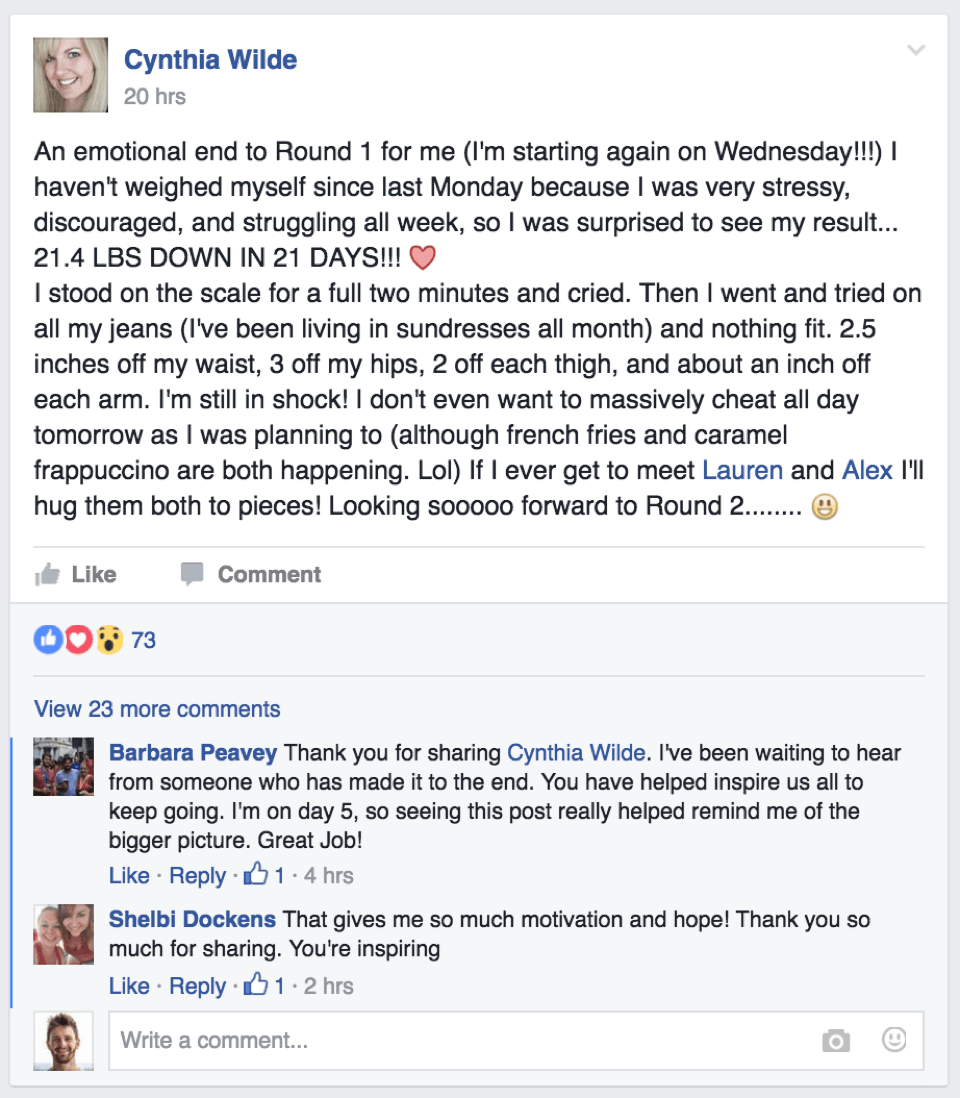 These is just one of the THOUSANDS of lives we have impacted with our health and wellness blog. I'm literally fighting back the tears writing this thing.
Cultivate strong relationships…
Our relationship has literally never been stronger. And yes, make a TON of passive income without ever feeling slimy or salesy! 🙂
Stripe Earnings
Paypal Earnings
Note that we also made some income from various affiliates (mostly Amazon) as well.  That is what caps off the income below to reach $103,457. This is the kind of income you can make, and most of this income is passive. We don't show these numbers to brag, but to give you an honest look at what is possible blogging.
After you start your blog today, you'll be smiling ear-to-ear knowing that your well on your way to living your life on your terms as a professional blogger.
If you'd like to see more of our story feel free to click that link. You can also check out our income reports if you would like. Now it's your turn to start a profitable blog… This is going to be the easiest little guide to follow to get your blog started ASAP.
Outline of what you will learn:
→ Step #1. Decide What to Blog About ($0)
→ Step #2. Figure out Your Domain Name ($0 with web host package) 
→ Step #3. Get a Web Host ($3-$5 per month) 
→ Step #4. Set up WordPress ($0)
→ Step #5. Choose the Right WordPress Theme (Free – $80)
Now let's get your blog set up! 😉
How to Start a Profitable Blog in 2017 – Step-by-Step Beginner's Guide
Step #1. Decide what to blog about.
If you're part of a business, company or organization, this step will be easy to determine. Your blog should be related to the product(s) or service(s) you provide, or the cause you promote.
If you're an individual, you have more flexibility with topic choice. I have already created a post for how to select your blogging niche if you'd like to read it.
Here are the basics:
Blog about something you enjoy – You can monetize almost anything these days, so focus less on the money. For instance, I know a guy making over 20k per month blogging about Herbs.
Blog about something with plenty of room for discussion – Don't be overly nichey. There's plenty of room at the top and if something is competitive there's good reason for that. We blog about weight loss (highly competitive), but it's still worked well for us. A blog evolves with you as you grow.
Details later, action now – The biggest problem bloggers have is not taking enough action. Don't fret getting the perfect topic down, that's something that will come to you as you blog and interact with readers.
Step #2. Decide on a domain name and get web hosting.
Domain name is the name used for the website address. For instance, Pinterest's domain name is Pinterest.com.
Hosting is a little different. It's the power to your website and backend that other people don't see. Without hosting, your website has nowhere to run and will not exist.
Anyone who wants to have their own blog has to pay for a domain name and hosting. It's also not something you want to skimp out on. A bad host we used one time almost cost us $20,000+ in sales over the course of a month. Trust us, you NEED a good host.
The good news? It's ridiculously cheap with the right host. A powerful host like Bluehost (the host that powers over 850,000 successful blogs and only costs $2.95 a month – less than a fancy coffee).
*Note that the above pricing is only with our special deal, so make sure you use any of of our links on this page to get the special pricing!
To find your blog name you can use this tool:
Your name might not be available and that's okay. Try a few variations or even using your name can help. If you need more help we have a great article on How to Come Up with a Great Blog Name in 30 Minutes or Less.
You can add unlimited websites and blogs to your BlueHost account so don't worry too much if you're not totally sold on your current domain name idea.
Step #3. Follow these steps to get everything set up.
We have reviewed and used every host you can imagine. Without a doubt, Bluehost is the best for your blogging needs. (The following images are screenshots I've taken from BlueHost so you know what to do.  
Click here to open up BlueHost in a new window and follow along.)
Yep, those are our bright, shining faces greeting you on the page! Click the green Get Started Now button at BlueHost to get started.
After clicking the button on the home page, you'll be taking to pricing options:
Select the basic package for $2.95 per month (circled in red above). You won't need anything more than that when you're starting out. On the next page, enter in the domain name that you'd like to use.
The next step is easy – just fill out all your contact details and payment information (billed annually). We also want to point out that the CHEAPEST pricing with your blog is offered through signing up for 36 months. 
If you opt for a 12 or 24-month plan, it will be a little more expensive. It's not a huge difference, but we do recommend the 36-month plan for a couple of reasons:
You are not locked into a contract anyway. Bluehost offers a guarantee, and you can cancel your plan at any time.  So you might as well go for option that saves you the most money.
Signing on for a longer plan represents a commitment you are making to your blog and yourself. Commit to making this a long-term deal that will reap you TONS of rewards over the next few years!
As you can see below, that same screen has some optional extras. It is up to you whether or not you purchase these, but I would generally recommend you buy the Domain Privacy Protection. This keeps your details private.
Finally all you have to do is add in your credit card details, check the standard Privacy Policy and Terms of Service, and hit the green submit button!
Congrats! You officially own your own blog! 😉
---
Step #4. Now let's install WordPress – One-Click Install
Login to your Bluehost account (if you aren't logged in already), and click on "hosting" from the top menu bar.  Scroll down until you see this…
Click on the "Install WordPress" icon, and follow these quick steps to install WordPress on your new site:
Select your domain from the dropdown menu, and click "submit."
Now Bluehost will take care of the entire installation process, and when it is finished, you'll receive some important login URLs.
You will be directed to a page that looks like this…
At this point, do not exit out, make sure to save this information (screenshot it or copy it into a text document), and click "configure your password."
Next, create a username and password, and store this information in a safe place! Click "complete setup" when you're finished!
Complete the setup, and you will be able to log into your WordPress website! Now remember that information you saved (see the photo above)?  You want to open up your LOGIN URL in your browser.  When you do that, you will be take to a page that looks like this:
Fill in your name and password, and you have now logged into your WordPress website!  Now it's time to select a theme and make your website look awesome!
Step #5. Log in and choose a theme.
Once logged into your WordPress website, follow the instructions on this page, and make sure to click "yes."
WordPress will walk you through the basics of starting your website and start to get you familiar with the platform. At some point, you will see the back of the dashboard which will look similar to this:
Click "appearances" and then "themes." It's now time to find a great theme for your blog and start making it look how you want! Note that WordPress has a few free themes that you can choose from, so play around with those a bit to get started and find one that works for you.
This one below is Twenty Sixteen:
Congrats on setting up your WordPress and installing your first theme! 🙂
If you're looking for a theme with a little more customizability, we recommend the theme that we started out with on all of our blogs: X Theme.
Starting with X Theme was one of the best decisions we made as newbie bloggers. It does cost about $60, but it's incredibly easy to use and provides for a lot of customizability.
Step #6. Get some additional help for your blogging adventure!
Join our FREE 7-Day Blogging eCourse!
Step #7. Get visitors to your blog!
So you have your brand new blog started, but how do you get people there?? As a new blogger, social media can be a little overwhelming. Facebook… Instagram… Pinterest… Google…
Where do I start?? The best place to start is with our FREE 4-Day eCourse on Pinterest Marketing for Beginners!
We'll discuss WHY Pinterest is the absolute best platform to get started with and to invest your time in as a blogger. Here's the short list:
You can forget throwing your money away on Facebook ads.
Avoid the desperate process of trying to get Instagram followers.
Google SEO will likely take you YEARS to see any real traffic, if ever.
Pinterest provides the opportunity for real, free, and viral traffic!
Get started with our FREE 4-Day eCourse on Pinterest Marketing for Beginners to find out how to get people reading YOUR blog today!
Cheers,
Alex & Lauren
Co-Founders, Create and Go
.
.
P.S. Below are some additional free Wordpress resources to help you get started! Use these website for further customization of your blog and writing help:
The following two tabs change content below.
Alex & Lauren
Former personal trainer and CPA, Alex and Lauren, tired of their "real world" jobs and chasing the weekends, created this website to teach others how to CREATE awesomeness and GO chase their dreams!
Latest posts by Alex & Lauren (see all)